Alberta Art Hop Day. The Al Forno Feruzza bus had its completed paint job on display (this is the in-progress version) as we wandered by, up and down the closed thirty or so blocks of Alberta Street, our neighborhood, our neck of the Portland woods. The parade seemed down-sized this year but still fun thanks to Rose City Vaudeville and the March Fourth Marching Band with their stilt-walking musicians and clowns. Who are these people? Extroverts, I suspect.
All this springtime jubilation after more than a few days of mega-gardening to the point where I'm forced to be prone to recover from the backache. Digging, weeding, rooting out, and planting—three hosta, ferns, two coleus, three clematis, a dozen nasturtium, cosmos along the driveway fence, and today even geraniums in window boxes as the birds flit and nest and sing.
Let's not forget about rock hauling as well. Well, pea gravel in a sesame tahini bucket I got a few years ago at the co-op in Corvallis but now, lo and behold, both paths in our backyard garden are replenished with a new layer of tiny stones. And the excess? Truck driven into the alley and it was shoveled into a reserve pile next to the Vicolo Giardino. Raking, too, thanks to my new, made-in-California shrub rake found at Garden Fever last week. And watering. The beat goes on.
Good days, though. Much fresh air. Barely inside the house at all. Cats lazy in the sun-drenched dirt or open windows. This too shall pass but for now, keep on rocking and digging in the free world.
The public domain image above is from the Works Progress Administration Poster Collection from between 1941 and 1943.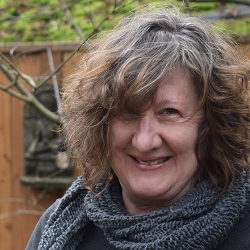 Latest posts by Nancy Flynn
(see all)