Photo by Martin Sigwald.
I watched End of the Century, the movie about the punk rock band, The Ramones, last night. It had gotten interesting reviews and it was, overall, pretty fascinating. I tend to like movies about music, movies about rock bands, movies that give you the inside dirt of touring and playing concerts and what it's like to live that edgy rock and roll life, etc. I loved the movie about the Talking Heads, Stop Making Sense, and of course Scorcese's tribute to the last concert by The Band, The Last Waltz. This movie definitely seemed to be in a similar vein.
I was only minorly into punk when it first came out—Patti Smith was my goddess for a while in the mid 1970s. But mostly I was distracted by other things like raising a kid back then. So I didn't really know much about The Ramones. I have to say—after seeing this film, I actually want to get one of their records. The story of the movie seems to be that this is a band that SHOULD have made it bigger than they ever did. They tried assorted producers including Phil Spector. They had the requisite band personnel changes—and a devastating love triangle that resulted in Joey Ramone (who died of cancer at age 49 in 2002) losing Linda, the love of his life, to Johnny Ramone (the Bush 1-loving, Republican whipcracker of the band) who married Linda, and the two band members ignored and never talked about the situation ever again.
Oh yeah, Dee Dee is also dead—heroin overdose. The Ramones made noisy, in your face, anti-establishment rock and roll. There were the requisite drugs and alcohol and bad haircuts and stoned-sounding interviews thrown in. Still, I think the movie has energy and offers an interesting portrait of musicians who pretty much tried to keep true to their authentic voices and selves.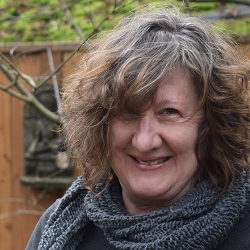 Latest posts by Nancy Flynn
(see all)