Photo by Helgi Halldórsson.
That's the sum total of my life here on this green, dry summer spot on the earth today. Silence so deep I can almost hear it, buzz in my ears. Now and then, a squirrel screech, a bird cheep, do all the creatures that surround me here make sounds with that long vowel ee? Pink, orange, yellow, and salmon zinnias grace my desk.
Today has been finding my way back to routine. Why do I resist the breathing in all the evil, the hatred, breathing out compassion and goodness? Is it because, first and foremost, I have trouble extending such sympathies toward myself? I wish I could breadcrumb my way back to this morning when what? things started to feel off? The bad sleep, the waking too early because I'm still on east coast time. The headache and no ibuprofen. The house filled with cobwebs and all the irritating piles, CDs, dishes, baskets of unfolded laundry on chairs in the living room. Instead, I worked on a poem. Dashed it off, really, a simple question, step out of time and reflect, no answers, there can't be one, it seems, when the dilemma is moral and it's more of me trying to mete out judgment on myself.
The oak veneer of the bookshelf changed colors where the post cards were hung all these years. All these years. Is that what bothers me? This feeling of time marching marching ever on? The county fair is in full swing barely three miles down our road. My ankle creaks and one knee groans but I can't seem to rally myself into the truck to head down to the trails and walk. I must like this self-hatred, this indulgence that is sitting here feeling what? bad? useless? confused? like I don't know what it is I want to do? All this wanting to know, this questing, when will I see I simply have to give it up?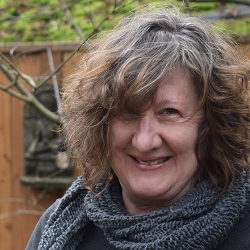 Latest posts by Nancy Flynn
(see all)