Apparently 75,000 people assembled somehow, someway on the banks of the Willamette River earlier today to hear Barack Obama speak for half-an-hour. Lines wound around downtown corners, landmarks, blocks—up to two miles of walking—before you could get into the event. I had my RSVP but we chose to stay home and clean gutters instead. I mean, we've already voted, and for Obama, and taken our ballots up to the neighborhood campaign HQ on Killingsworth & 18th, isn't that the important thing? I'm not sure my Irish skin could have handled more sunblock after 5 hours on Alberta Street on Saturday.
So we cleaned gutters instead while history was made and a city of people lined up, walked, and baked in this slightly abnormal (for Western Oregon) mid-May summer-style heat: John on the newly-purchased-for-the-job extension ladder scooping organic matter so fetid it smelled like dying flesh into a white sesame tahini bucket that he then handed down to me and I dumped, very much unceremoniously, into our yard waste bin, collected by the city NEXT week.
While people queued, and waited, and listened, and clapped, we figured out how to turn on irrigation in our new back yard. Rigged up netting as a faux fence to keep the cats hemmed in until we can get friends to come visit and build us a sexier fence and gate. Hacked at over-zealous day lilies. Disassembled a rusting golfer weather vane from the roof of the garage so we could replace it with the cool glass and verdigris globe N/S/E/W objet from John's childhood home on West Street.
I planted ivy geraniums in a funky painted wooden planter found at one of the shops on Alberta yesterday when I worked my volunteer shift at the annual Art Hop. I like that I can see them out the window of the dining room while we eat. We chatted with a neighbor, put more sliding screens in windows, swept and vacuumed the bricks and flagstones in the back garden, and watched as the Rain Bird irrigation came one and went through its paces of six separate, discrete zones. All in all, a great day.
Second anniversary of Balthazar going off "into the wild" to die his dignified, private death."Second anniversary of C. making it to Los Angeles to start his new, other-coasted, relaxo-life. It's sure great to be sitting in our driveway (soon to be Pennsylvania Patio) taking advantage of the wireless from inside the house, batting away the last of pre-summer bugs, watching the daylight fade. I love having a home, being home, putzing around a home, doing this and that, being here, being, letting the day unfold, no worries, no frets, no agita about needing to be somewhere else. Ah, bliss…
The rain gutter photo above is by cogdogblog.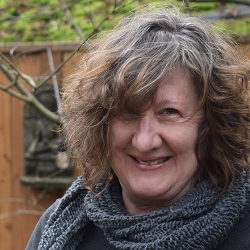 Latest posts by Nancy Flynn
(see all)