I spent the past week reading over 200 pages of poetry from all of Larry Levis's volumes over the years. In 1996, Levis died of a sudden heart attack when he was 49. He grew up in Fresno, California where his family grew grapes.
Levis is the first poet I've read in a long, long while whose work completely and utterly spoke to me. Why was that? His poems surprise me in their use of narrative and language. They run deep below the surface of the words to make meaning that is often profundity. They seem deceptively simple but are far from that. I read them like they were prose, at times, and didn't have to feel all dumb and uncertain because I could not "get" what he was trying to write about, often the case with other contemporary poets. And yet, they were also surreal and meandering, often ending in a way I could never, ever have guessed from the start of a poem. So, finally, a poet who is a keeper for me…I look forward to adding many more to my top shelf over this Year of the Rabbit in Poetry.
Levis has already inspired me to write my own poem about the singer Billie Holiday. And yesterday, I got his volume of essays, The Gazer Within, along with his Winter Stars and will be diving into both of them later this week.
Photo above by Phillip Chee.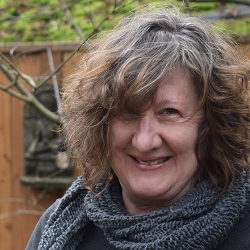 Latest posts by Nancy Flynn
(see all)