It is a gorgeous summer morning. I have the screen door open so the cats can mosey in and out. Of course, this allows the flies to visit as well. One particularly large and obnoxious one is flitting about the dining room as I type. This too shall pass.
I spent most of Monday working on five pages of so-called creative nonfiction to send off to another potential writing critique group. They meet on the first Mondays of every month. I'll go on the 7th to try out, to see if I am a fit with them and them with me. My draft was basically a bunch of rambling blog posts about moving. I quickly made up a fancy-sounding title; this made it sound like I've been thinking about this longer than I have: A Place at the Fire: Reflections on Moving and Upheaval, Exile and Home.
I got the title idea from a fragment of the Denise Levertov poem, "Deaths"—easily found by searching the word "moving" on Bartlett's Quotations:
…moving aside to give him / a place at the fire, / the poet made him welcome, / asking for news of home.
Then, of course, I figured a little Bob Dylan song lyric never hurts any project so, lo and behold, my search of that website yielded—
All your seasick sailors, they are rowing home. / All your reindeer armies, are all going home…
The carpet, too, is moving under you / And it's all over now, Baby Blue.
The Bob, what can I say. A little bon mot for every occasion.
Seriously, though, I like what both of these epigraphs suggest.
How we long for home, how we seek the stable, the secure, and community. How so much of this is always moving, and we're somehow always moving along too, whether it's simply forward down the street or into a sea green/magic mint English-style cottage, or to the next item on the to-do list or, as with everything living, toward the end, toward death.
It's not dark yet but it's getting there, the Bob also sings. Now how to make a book about moving also funny?
The public domain image above is of John Doyle's drawing, "A Venerable Spider and A Buzzing Fly" from 1832.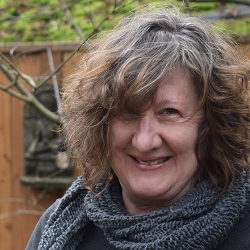 Latest posts by Nancy Flynn
(see all)