Photo by Dave Croker
The weather changes with the setting of the sun here, in this outpost of cloud/sky/tall tree/mud that was once the ocean floor and now is landscape barely fifty miles from the Pacific Ocean, the western edge of the United States.
Tonight, after two days of summer/heat/sun, everything at dusk is about the WIND. Woodstock Gregorian chant chimes, temple bell, maybe even the bamboo rods that are some kind of wooden wind chime I bought on Kaua'i, everything is a sunset symphony here on Oxbow this eve.
There is a scientific explanation for all this. Cool or hot air forms over the Pacific Ocean, makes its way inland, hits cool or hot air over the wide swath of land that is the Willamette Valley and eddies that are this wind tango and samba about before the next dance partner of excitement: what happens when clouds and air pressure meet the Cascades.
J. says all I have to do is say the word and we could be back, him working, the two of us living in the DC metro area. But there's so much I would miss, have grown accustomed to. Earth dirt smells in the morning. These box canyon winds at night. Funny, in the seven years we've been here, the one thing that has NOT been a problem for me is the rainy weather…
Have I finally mutated from a New Yorker into an Oregonian? Not necessarily a bad trade. We still have C. there in lower Manhattan to manifest the tics and testiness of a true New Yorker, city-style. So we're not entirely out of the game, yet. But I no longer care about what's in the weekly NY Times Book Review. Surely, isn't that a sign of moving on?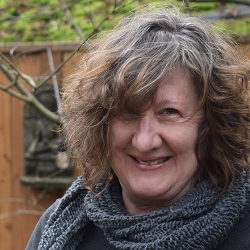 Latest posts by Nancy Flynn
(see all)