Dateline 2004—
From Jan Morris's last book, Trieste and the Meaning of Nowhere—words that speak to me, maybe help explain some of what I struggle to understand, this otherness, this search for place and identity and tribe:
"There are people everywhere who form a Fourth World, or a diaspora of their own. They are the lordly ones! They come in all colours. They can be Christians or Hindus or Muslims or Jews or pagans or atheists. They can be young or old, men or women, soldiers or pacifists, rich or poor. They may be patriots, but they are never chauvinists. They share with each other, across all the nations, common values of humour and understanding. When you are among them you know you will not be mocked or resented, because they will not care about your race, your faith, your sex or your nationality, and they suffer fools if not gladly, at least sympathetically. They laugh easily. They are easily grateful. They are never mean. They are not inhibited by fashion, public opinion or political correctness. They are exiles in their own communities, because they are always in a minority, but they form a mighty nation, if they only knew it. It is the nation of nowhere, and I have come to think its natural capital is Trieste."
After reading this book, I want to visit Trieste. I want to see the funicular hitched to the Opicina tram and feed the city's half-feral cats, whether outside the Trattoria Risorto in Muggia or in their hidden nests on the Karst. Coincidentally, Karst was my maternal great-grandmother's maiden name.
Here's another quote with lovely sentiment from this fascinating book:
"In Trieste animals are rarely scared of humans, to my mind a sure sign of civic integrity, come wealth or poverty, fame or ignominy, empire or dictatorship or Autonomous Region."
The public domain image above is a postcard entitled "Trieste Panorama della Rive e Port Front."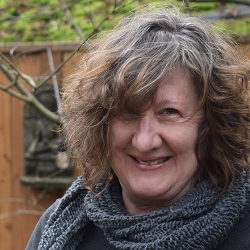 Latest posts by Nancy Flynn
(see all)