Arctic chill has blanketed our corner of Oregon. Winds are stirring the firs and sequoias, up from the Columbia River which isn't that far from our house. Even around the summit of Mt. Hood, it's so clear you can see the snow swirl. Bright blue sky by day, bright white full moon at night. The kind of brisk that makes you feel achingly good and tired after a walk. Chill that makes you glad to be able to stay in a warm inside.
A woman behind the deli counter at New Seasons is wearing a skirt made of knotted scarves, all different colors and lengths, tied to a belt or waistband and this get-up over tights or a pair of pants. A white truck spent a good part of the afternoon in the driveway of our new house. When I headed out to walk earlier, it was rumbling down the street past here. Rhododendrons are starting to bud, as well as other shrubs that I don't yet recognize along a few houses on my walk. How can it be the third week of January and hinting at spring? That's what I love about living out here. The overall temperateness. Even with a few days, or a week, of temperatures that barely climb above freezing, a purple primrose and a red rosebud bloom.
The public domain photograph above is of the leading wedge-shaped edge of a cold front moving rapidly along the Rappahannock River. It was taken by Fawcett 5.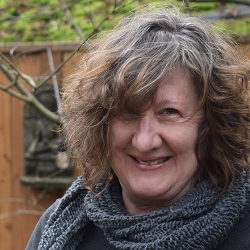 Latest posts by Nancy Flynn
(see all)