I think it's hitting me tonight—after a spate of days spent socializing and the Arctic air and sun along with the piles steadily growing, day after day, on the edges of the rooms on the first floor of the house—here we go again! I am so longing to be settled, to be home; I know the desire for that will spur me on with the energy, the drive to keep going. To carry hat boxes and tins of rubber stamps and boxes of books to the back seat and trunk of the car. To lift then slide Rubbermaid bins filled with newspaper-wrapped kitchen crockery, plates and bowls and sifters, even a wooden cannibal fork into the back of the pickup for the short—and I mean short!—drive down the street to the new house. To make everything do double-duty: luggage filled with summer clothes, suitcases of art objects, backpacks filled with videos and DVDs, trash cans of cleaning supplies and extra bottles of Paul Newman's Italian, even the cooking pots have something (pot holders, dish towels?) inside.
I can already imagine that pristine, emptied-out basement filled, like a department store, with my carefully, categorically-organized stuff. But right now, it's just the weariness of anticipation that I can feel. Instead of the wonder that is my beautiful, oh-so-easy life with its wealth of good fortune and the sun shining bright. After a comfort-food sunchoke soup and a panini at Park Kitchen lunch with a friend, I come home to haul dresser drawers out of the car's back seat, empty liquor boxes from the trunk. The cookbooks are now packed and stacked; I start in on some of the poetry until I run out of empty boxes once again.
The cats sleep in front of the gas fireplace, unknowing, unsuspecting. The warehouse of our life, our possessions, our stuff stacks up around me.
The public domain image above is of a trading card for Diehl Moving and Storage, Allentown, Pennsylvania, circa 1960.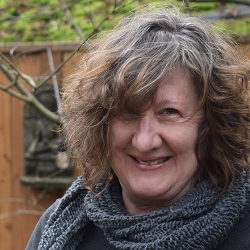 Latest posts by Nancy Flynn
(see all)