Photo by Luc Viator
I'm supposed to be searching for some epiphany I can write about in the style of early James Joyce. But instead, today has been yawning. A drive to/from foggy Newport on the Pacific Ocean to retrieve a mattress and a television set from an outdoor patio. Errands to the P.O., the co-op, chauffeur duty to the athletic club then errands at the supermarket, gas station and drive-through pneumatic tube bank. Two loads of laundry washed, in the dryer, a few delicate items on the line. Bins of recyclable glass, metal, catalogues up the driveway by the mailbox, flattened piles of cardboard that only last week were boxes scrounged from the garbage at the Plymouth Public Library and collection envelopes at the First Christian Church. I've gotten through leftover lunches and now it's the beginning of a low carb dinner in the oven and Red Sox vs. Toronto baseball on T.V. I have come outside to sit on the green 50s chair with the iBook, a glass of wine, just the hint of nighttime cooling off winds, to see if I can find the silence, the ability to be with myself, that is myself and I've let be disrupted since returning here on Sunday with my 28-year old son.
Is the epiphany that I knew this would change my days, feel different than what I'd grown used to, alter my life but only in the actual moments do I remember how that change actually feels? At least C. sleeps in so I've had mornings to putter with poems. Is the epiphany that I had grown to love the solitary, quiet life I've led here in Corvallis in spite of all my bleating and mewling about being lonely now and again? The world hangs on a thread. Spiders web everywhere and even when I dash off a hastily edited dream for a class assignment, people find it daring and bold. I see I've chipped my Afghani emerald yet again.
I have had seven years here, my life a walking epiphany. Even now, the sounds of dusk approaching, frogs, crickets, do they have crickets here? The wily raccoon has already been and gone at the compost pile; yesterday's offerings of chewy pita and whole wheat hamburger buns highgraded, the coffee grounds and broccoli stems left behind.
The beginnings of yet another household for an adult child take shape in the increasingly crowded garage. The irrigation turns on, telltale sputter. Wind and the oaks send down brittle brown leaves. They skate across the boards of the rotting deck. There's a mountain, two cords of wood, waiting to be split and stacked in the well below the front stoop, wood stove heat this winter.
Maybe my epiphany is how used to this I've gotten—quiet, room to think, solitude, no one around me demanding conversation, the ability to rearrange priorities on any given day. And how much I truly do not want to rejoin the dominant culture American world. To give up my life of perfect moments, parade of epiphanies, a wind that changes temperature, brings the smell of aromatic earth and breathability with it along with the ability to wake me up.
There seems to be a growing profundity with this approaching fifty, talking with J. about having a green funeral, feeling like I have lived a long time, losing some fear about death because fifty sounds, feels long enough, even though, of course, it isn't. Or is it?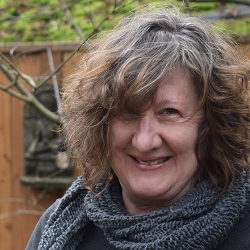 Latest posts by Nancy Flynn
(see all)