John's been having so much fun documenting the first days of our holiday in Venezia that I thought I'd join in and add some daily posts of my own. This morning is the first day we've had rain, and cooler temperatures after an absolutely stunning Sunday of spring warmth—and the crowds of both tourists and out-and-about Venetians in campi, crossing ponti, and crowding calli and fondamente in every sestiere of the city. And how do we know this? Because we were in five out of six on Sunday, our Bataan death march of sorts, that started out innocently enough as a stroll to end up at the gothic cathedral of San Zanipolo and ended up with a few wrong turns and nine miles as clocked on the pedometer at my waist. John had already done five miles earlier in the morning while I recovered from jet lag by sleeping in…
We're having a slow start today. That's the beauty of being here for longer than a few days. We don't feel like we have to cram everything in, like we have to be on-the-go touring and taking it all in in every waking moment. It will be nice to have a break from so much city hiking today. The big plan is to stroll to the very nearby Campo San Rocco and see the Tintorettoes in the scuola there and maybe pop into the Frari again to marvel at Titian's paintings…
After finishing the last of three memoirs that all ended up with the common theme of women adopted at infancy or giving children up for adoption, I'm now reading Joseph Brodsky's book about Venice, Watermark. It's a series of short meditations on this city, how he came to be enchanted by it, and why he ended up choosing to be buried here when he died in 1996. All a prelude to a visit to the cemetery island where other luminaries have their final resting places as well. Tomorrow we are off to Padova by train. Our admission time for the Scrovegni Chapel is 12:45 pm. Like the Sistine Chapel, these art treasures require tickets in order to control the madding crowds.
Other favorite moments so far?
After an exhausting 24 hours off travel, sitting out in the open air on the back of the Alilaguna water bus just after sunset, the wind off the water in my face, the lights of Venice and the Lido still off in the distance, beckoning us on.
Wandering into the eastern corner of Castello the first evening we were here until we find ourselves on the tiny island of San Pietro near the boat yards where old vaporetti go to be repaired and/or rust and realizing we have walked ourselves off the trusty Rough Guide map.
My first gatto sighting down the unmowed, grassy path into a prison over on the Giudecca where we stayed in the Hilton Molino Stucky our first two nights.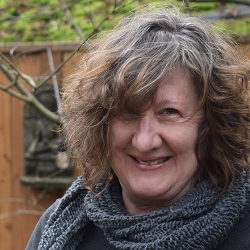 Latest posts by Nancy Flynn
(see all)