Today was a slow, living-in-the-neighborhood day. John hiked through San Polo and Santa Croce up to the Rialto markets this morning to find fish and veal (which I've never yet had) for dinners for the next few days. We're assuming everything except the super-touristy spots will be closed for the holiday on April 25th. So planning ahead a bit. I mostly puttered about Dorsoduro, in search of talcum powder to put into my shoes so the Superfeet innersoles won't squeak with every step, and a bit of window shopping as I stroll down calli crowded with touring high school, maybe even college students—they seem to travel in clumps, looking all the same in their MTV-inspired, faux hipster uniforms, and enjoy tormenting any pigeons they come across.
We made Pasta y Fagioli, a traditional bean soup, a simple recipe the apartment owners left along with a handful of others. Then, after lunch, we sauntered to see the Tintoretto paintings at the Scuola Grande di San Rocco, near the Frari Chapel. Wow wow wow. The guidebooks are right when they call it his Sistine Chapel. There is so much art covering wall and ceiling, on two floors, along one stairway, and in a side room, that you are dizzy from looking up, swiveling your head to take it all in. The thoughtful members of the scuola provide mirrors you can hold in front of you to reflect (and thus better see and study) the paintings, especially the ones on the ceiling. We then visited two more churches (San Rocco, and our neighborhood, I Carmini) before calling it a day.
Bells ring, as they seem to at least every half hour. And a neighbor is bailing out his boat, Lucia, as I type these words, speedy scoops of water tossed hurriedly over the skiff's wooden sides. This was done two or three days ago before it rained. Seems anytime he wants to go anywhere, this task is necessary first. I'd already be figuring out where to snag a few of the smart, corrugated green plastic covers that the boat in front of his has—oops, I keep forgetting, being lethally efficient is a vice not a virtue here. We are definitely on the back-canal gondola tour route here on Rio San Barnaba. A bit of showing how the locals really live, I guess.
We're poaching fresh trout for dinner along with white asparagus and fresh haricots verts. Tomorrow we head for islands in the lagoon, most likeley San Michele (the cemetery island) and Murano, the home of the Venetian glass furnaces. Slow travel, slow time, slow food, slow days. And I still managed to clock 3.5 miles just wandering here and there. All in all, having enough time to take it all in isn't a  bad way to get to know a place as lustrous, as rich, as visually lovely and beguiling as Venezia.
The public domain image above is of the Grand Canal in Venice, Italy from 1890. Its author is unknown.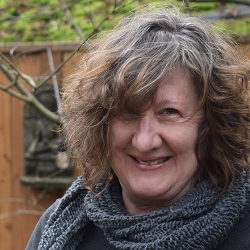 Latest posts by Nancy Flynn
(see all)