This late afternoon moment is all about shadows, suddenly and right now, and not for very long:
The rhododendron's leaves and branches in the sunlight across the back of the orange living room chair.
The crisscross lines of the window's panes bisecting the shadow of the candlesticks with their red and yellow yet-to-be-lit candles on the butter yellow wall.
The back of one of our dining room chairs a shadow against the island that separates where we eat from where we cook. I especially like the way the two outer wavy spindles resemble rivers.
The sunlight hitting the orange handle of a pair of Fiskars scissors in a mud brown mug over by the telephone, lighting them up so they're vivid as a mandarin orange.
For a few minutes, bright sun behind the mirrors, the chest with the radio and satellite radio in the room with the burnt orange walls. But now, swiftly as it arrived, it too has gone.
Earlier, on my drive, the snow-cap of Mt. St. Helens on the horizon, always so startling to see it and take note of how much was blown off.
Two different flyleaf papers on my chapbooks—one clear, one an inky navy blue.
The smell of the Douglas fir clown tree in a corner, awaiting decorations.
The freight train horn and the sound of its wheels on the rails, a murmur, a not-unpleasant industrial drone.
A cat asleep on a throw pillow under the coffee table with the painting of the piazza in Siena, Italy inside.
The fire that brings warmth to this room with a simple, too-easy flick of a switch? How luxurious and lucky is that?
And how swiftly the air in the house cools when the sun dips below the horizon. We're now within an hour, maybe less of dusk on these short and getting shorter days of the year.
The image above is a postcard of Mount St. Helens in Washington State circa 1910.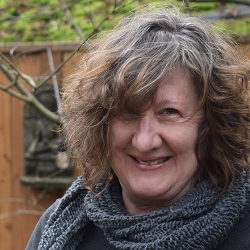 Latest posts by Nancy Flynn
(see all)