Usually we have two holiday trees. But now that we live in the Little House in the Big City, that wasn't an option this year. Also, neither of us were in the holiday mood, for a whole host of defensible reasons. So, not long after my St. Nicholas Day birthday, we headed up to Alberta Street and bought the top of a Douglas fir tree for $10 from a crew of holy rollers who've taken over the side yard at what used to be the Clown House until the clowns—they were like Jesus without the good intentions—had to move because the rent went up.
A clown tree from the former Clown House doesn't deserve fancy decorations. While I put a few of my fancier Czech and German hand blown ornaments here and there amongst the branches, mostly we have the kitsch and schlock adorning the branches this year. This includes the corn husk ornament named Fart made by my son in 1st or 2nd grade (and later chewed by G's maniac dog, Sati). John's son's paper wreath and his paper fireplace (faded construction paper from 1984) and assorted glass balls with glitter names of assorted people on them compliments of John's daughter and Elmer's glue. There are glitter tiaras from the turn of the century celebrations, 1999 to 2000, and a ruby glitter slipper that reminds one of Dorothy and the Wizard of Oz. We have not one but three maybe FOUR Elvis Presley-related items. And my 1959 Barbie doll's head (chewed by a different dog, don't ask!) on the top instead of a star. And the Barbie ornament bought for $2 at the Ithaca Woolworth's and wrapped by our Elmira, New York movers in layers and layers of bubbles, more than the Tiffany lampshade in its thin piece of newsprint in the same box.
Glass icicles. Green, red, and silver glitter-covered strings of beads. Balinese wooden puppet ornaments. Origami. Light in the primary colors of the rainbow. A potato, a pickle, a tiny green frog. Carved gourds made in the mountains of Peru. A red AIDS ribbon. White stars and birds for peace and joy and happiness in the coming year. 3-D glasses. Need I add more?
The public domain photograph above is of the 1964 Capitol Christmas Tree, a Douglas Fir from Buddies Nursery in Birdsboro, Pennsylvania. It arrived at the Capitol Grounds to be planted as a permanent Christmas Tree on the West Front of the Capitol.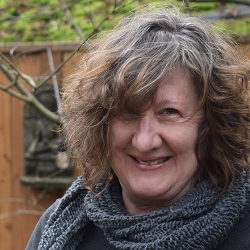 Latest posts by Nancy Flynn
(see all)