Photo by R.U.P.A.K – A.N.T.O
Dateline August 2005—
Rocking steady blues at a music festival held in a park on the edge of a river in the isolated, interesting town of Joseph, Oregon, in the Wallowa Mountains, not far from the Idaho border. We are friends with the music coordinator so we have backstage passes which means we get to set our chairs up early, out of the sun, and help ourselves to water and snacks put out for the volunteers and musicians in a special tent.
Long drive to get there. Maybe six or seven hours from where we live. We stop in Walla Walla, Washington on the way going then The Dalles, Oregon in the Columbia Gorge on the way back.
Details noticed and remembered as I listen to John Adams talk about his new opera, Doctor Atomic on Performance Today:
— At the Oregon state line, border with Touchet, Washington, Pacific Power has at least 400, maybe more, wind turbines that march like quiet sentinels across the lulling hills.
— J. takes photos of the band with his new Nikon, roams around, I sit at the festival in the lawn chair from home reading a mediocre book.
— A forest fire, Blossom, burning over the hill. The Forest Service headquarters and heliport are next to the motel where we're staying in the next town over, in Enterprise. Smoke in the air, a fire camp set up at the fairgrounds.
— Lawn chairs and a cool wind under the trees, snow in the mountains behind us, a parasail trips over Wallowa Lake.
— At Chief Joseph's grave outside the town, visitors leave a cluttering of items behind: key rings, cigarettes, a watch, a Carmex tube. A bead kit, a globe, a robot toy. Pencils, straws, rocks. A crayon, a Junior Ranger badge. A stone painted to be like a ladybug. A beef stick and butterfly stickers on a sheet of notebook paper. Feather, sage, business cards, a scarf. Nickels, dimes, a cassette tape, and I Am Loved pin and an I.D. bracelet. A battery. A T-shirt on the branch of a tree. A golf tee, a peach pit. A Texas Christmas ornament. A Chief Joseph Days 2005 rodeo ticket. A sea shell, a stick covered with yarn.
I leave my Pilot Precise V7 pen.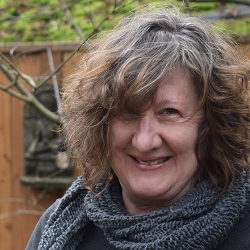 Latest posts by Nancy Flynn
(see all)