Another day unfolds in my city life as I reclaim my order and my time after returning from a long, icy trip back east. This is the first day I've actually noticed, taken note of just how long the light actually hangs around now that we've had almost a week of the clocks sprung ahead.
It's been a lovely day. A visit with a good friend, another writer, in town with her husband for his conference. Lunch and coffee and interesting conversation, actually stimulating, making me think and reflect and consider opinions and wisdom received and learned from living this life, its unfolding of days. So now, I sit in the dining room, dinner en route from Hot Lips Pizza and watch the light leave 22nd Avenue as the earth turns, yet again, away from the sun. That's it, isn't it? The way the diurnal cycle works? The giant Douglas fir—likely planted when these homes were first built 70 years ago—with its broken, still-hanging branch next door moves in the barest of dusky winds. The cargo feeder planes have stopped, cargo delivered and the pilots gone where? home? to the closest motel until they wake and do their cargo delivery thing again in the morning?
There is so much I do not know about the world.
Today I know there was sun. And that the heavy rains from earlier in the day filled our new bird bath and the old one, no longer hanging but now a simple basin on the ground where it can serve as a cat water dish, and the broken pot G. left behind all those years ago when he fled Ithaca for Fairbanks. Shrubbery whose names I don't yet know seems to have doubled in size since yesterday afternoon. Spring: abundance, budding, blossoming here in my quiet city oasis.
A fire truck drives past. Soon we will have shades with cords on both sides that take them down from the top and up from the bottom. I continue to be amazed at how easily I've made the transition to this from life in the Coast Range woods. Is it all about being ready? to move on?
The public domain image above is a photograph of Ladder Truck 6 of the Allentown, Pennsylvania Fire Department. It was taken in 1950.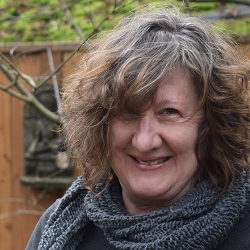 Latest posts by Nancy Flynn
(see all)