I feel like Richard, Ronna, and John in DC are all getting one up on me re: this virtual summer holiday so I thought I'd better come up with something of my own to offer/throw into the mix. Let's see. What did I do on my summer vacation? Tomorrow night's the big Last Thursday art event up on Alberta where this mural is located. I'm sure there will be plenty of hoopla at that. It's also a potluck/BBQ at the neighborhood Obama volunteer headquarters. Maybe I'll get my 23-toothed self up to one or both of those.
Meanwhile, today…let's see what excitement I can offer. I drove to SE 122nd Street (which seems to be a concourse of various dental offices and car dealerships, I swear) to have my stitches removed at the periodontist. After that, I took SE Stark all the way to Mount Tabor, got a touch lost at the base of that extinct volcano/city park, then recovered to pilot myself down to Hawthorne where I parked and walked around that neighborhood, familiar from years of taking writing classes up here when we first moved to Oregon from New York.
I treated myself to blintzes with lemon ricotta filling at Bread and Ink for brunch. Popped in the Powell's to peruse books. At Sorel's, I found a tiny Chinese bell to use as a doorbell of sorts on the outer side of our new driveway fence/gate. The clerk in there was as crabby as I am about the out-of-control dog barking that goes on in this city's neighborhoods and how none of these dog owners seem to be held accountable for it but someone once spied in his window and busted him for having too many (all indoor) cats. After our majorly bitchin' gabfest, he said I was welcome to come to his shop and commiserate any time.
I then motored down Hawthorne to pop in a few secondhand shops (when in Rome, do as the Romans…) still in search of a small, lidded Pyrex dish for heating leftovers in the oven now that we are sans microwave and I'm trying not to waste precious aluminum foil. Lo and behold, I found not one but two (one lid between them) and for super cheap at a new place called Vintage Pink painted—you guessed it, pink—on the corner of SE 21st or 22nd. The owner of the place was wearing a long, curly brown wig that made him look like Howard Stern—about the same age, too—and also sporting fancy French manicure fingernails. His wife was skinny, no skinnier, than a stick and older than she looked, too.
The final stop on my post-dental Tour de Portland was Garden Fever on 24th and Fremont where I picked up the official tickets and booklet for the Tour de Coops—yes, we are talking chicken coops—that we'll be going on this coming Saturday. Eighteen coops in all scattered throughout the city including the already infamous "Hens for Obama" on North Williams Avenue. I'm sure John will bring his camera along and many photo opportunities will abound.
Back home, I regrouped then headed out on a walk to/from New Seasons to acquire more "baby food", a.k.a. applesauce and yogurt because I'm still on this soft food diet for another week, and a quiet evening listening to Bob Dylan's Theme Time Radio Hour on XM Satellite Radio. This week's themes? Musical Maps and Musical Instruments. A regular cacophony to quote Bob. Among other bizarro things, he played some ridiculous band called the Hollywaiians. Hawaiian cowboy music? Who knew?
Meanwhile, Ping slept on his back like a dead cockroach out in the sun and dirt. And Ryman got his favorite toy, Wormie, out of the toy basket and tossed it into the air. The ice cream truck cometh, playing "Home on the Range" as the Alaska and Horizon commuter jets change their flight path to be almost over our house. And crowds cheer on the softball/kickball/baseball/soccer teams playing up the street at Alberta Park. Sunset comes late on a July summer evening here on the almost-banks of the mighty Columbia River…
Photo: A mural on the wall of the Community Cycling Center, Alberta Street, Portland, Oregon.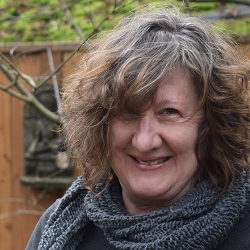 Latest posts by Nancy Flynn
(see all)