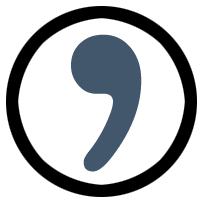 Musings on Writing and Life.
Nearly twenty years ago, when a web designer friend and I put together the original version of www.nancyflynn.com, we settled on five photos to be every page's header. At the time, I think I was drawn to this particular group because each one spoke to something elemental that I valued, that I held near and dear. Beauty. Spirituality. History. Journeys. Sustenance. In the new incarnation of this site, the designer, Scott Docherty of Redhare, retained these photos, skillfully marrying them to the elegant look and feel of each new page.
All of these photos were taken by my husband, John Laurence. Here's more about their provenance, from left to right—
Ice Crystals on the Sundial, Corvallis, Oregon, January 2005
A winter storm in the Willamette Valley of western Oregon is, even these days, still a fairly rare event; if enough snow or ice accumulates, the world simply shuts down. We were living on thirteen acres in the foothills of the Coast Range at the time, just outside Corvallis, and thus stuck at home to marvel at the icy beauty all around us. This sundial—a gift to my husband from his late mother—was then perched on one corner of a splintery railing on the deck. I loved how the crystals made the grain of the wood a thing of beauty and also how they brought into sharper relief the words on the sundial itself: "Grow Old Along With Me The Best Is Yet To Be."
Garden Buddha with Dahlia Blossom, Portland, Oregon, July 2023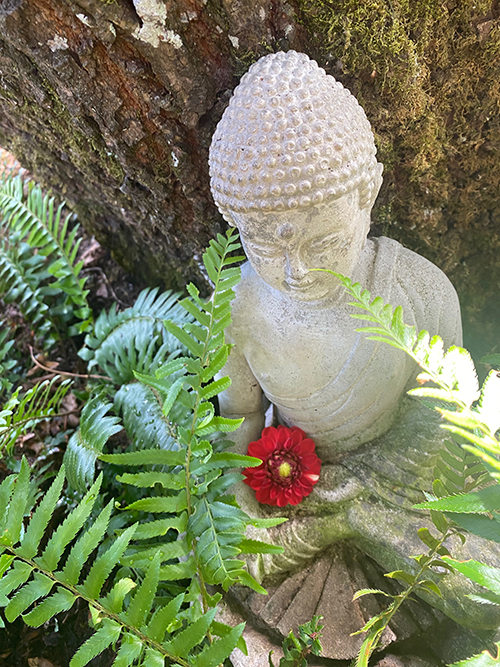 This is a new photo taken in my backyard habitat/shade garden. Unfortunately, the photo that was originally in the lineup on my previous website, "Buddha with Pink Geranium," was no longer available in digital format so it couldn't be used. This Buddha statue graced our house in the Coast Range woods and has occupied its current spot here in the big city since 2007. There is much I take to heart from the Buddhist tradition especially the Noble Eightfold Path—right view, right resolve, right speech, right conduct, right effort, right livelihood, right mindfulness, and right concentration. The Buddha said: "Transient are conditioned things. Try to accomplish your aim with diligence." A mantra for living a good life.
Cornerstone, Dexter Avenue King Memorial Baptist Church, Montgomery, Alabama, January 2005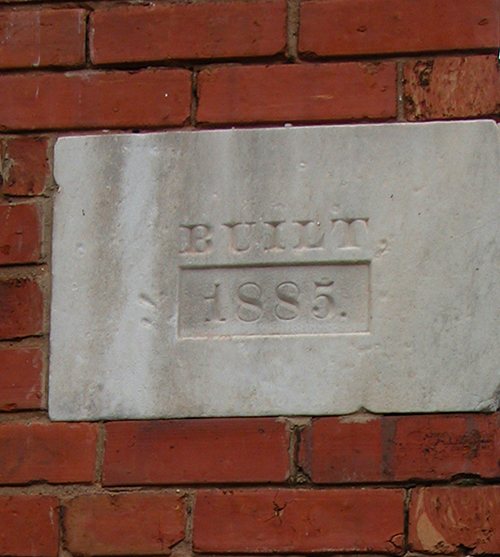 We visited Montgomery, Alabama, on a road trip to and from New Orleans, Louisiana in early 2005. It was my first time in the Deep South; we sought out historical sites from the Civil Rights Movement as we toured around. We were lucky to be given a tour of the Dexter Avenue King Memorial Baptist Church by one of the congregation's members. Rev. Dr. Martin Luther King, Jr. was pastor there from 1954 to 1960. He helped organize the Montgomery bus boycott which began when Rosa Parks refused to surrender her seat to a white person on December 5, 1955. I was born the next day. This church was designated as a National Historic Landmark in 1974 because of its importance as a true cornerstone in the Civil Rights movement and American history.
Westbound Empire Builder in the Amtrak Station at Night, Havre, Montana, December 2003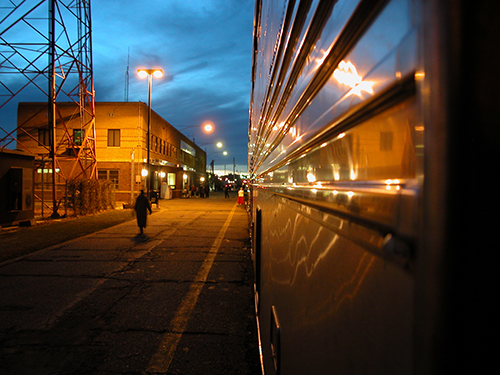 Travel by train suits those of us who like to witness the landscape unfolding. Who like to see the other side of the tracks. Who like to sit back and observe sights that it would be impossible to see in a car on a highway zooming at 70 mph. America and its love affair with the internal combustion engine have made train journeys seem both romantic and also obsolete. My husband and I have taken a good number of Amtrak train trips (with sleeper car) around these United States over the past twenty years including the California Zephyr, the Cascades, the Coast Starlight, the Empire Builder, the Lake Shore Limited, and the Sunset Limited/Texas Eagle. This photo captured, for me, the quintessence of why train travel feeds the (creative) soul—the sky at dusk, the lights reflected, the silhouette of a single human being walking to get back on board before we start our journey west again.
Bounty of Peaches, Granville Island Public Market, Vancouver, British Columbia, July 2005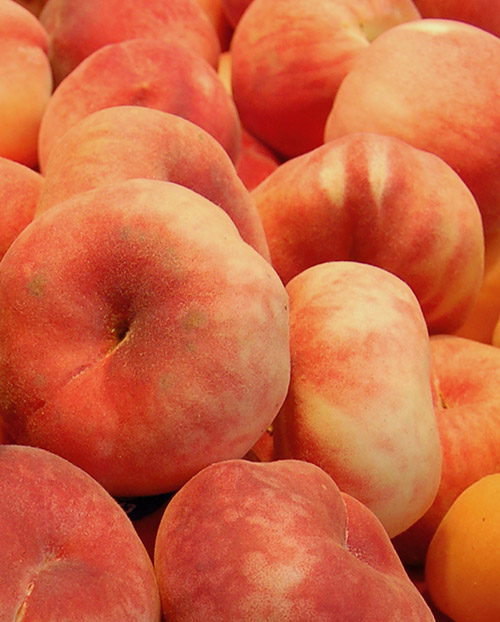 When we travel, we always check out the local markets. Of course, we also end up taking a ton of photos of their gorgeously arrayed and displayed goods—fruits, vegetables, fish, sausage, rotisserie chickens, artsy-craftsy items, you name it. Closer to home, the harvests from our community garden and the cuttings from our flower beds often become photographic subjects. Something about these peaches grabbed John's camera eye that day in the Public Market on Granville Island in Vancouver. Something about these peaches spoke to me of beauty and abundance, brought to my mind the joy of biting into a just-picked, perfectly ripe stone fruit on a hot summer day. Sustenance. Sun.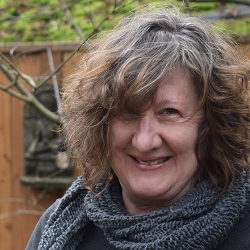 Latest posts by Nancy Flynn
(see all)